Introducing: The Grow More Sales Course
You want a self-sufficient homestead that can cover some or all of its costs. In order to accomplish that, you need to sell things from your homestead, whether that is chicken eggs, goat milk soap, or a handcrafted milking stanchion. 
You have the resources, you just need a reliable way to reach out to people who are ready, willing, and able to buy from you. You need a plan that works consistently and doesn't take away from the hard work you are already doing on your homestead.
That's why we created the Grow More Sales course. This course will walk you step-by-step how to sell your products and services to your ideal customers using content marketing in just 90 days. 
This course distills down over two decades of experience and knowledge into easy bite-sized pieces you can fit in your busy lifestyle.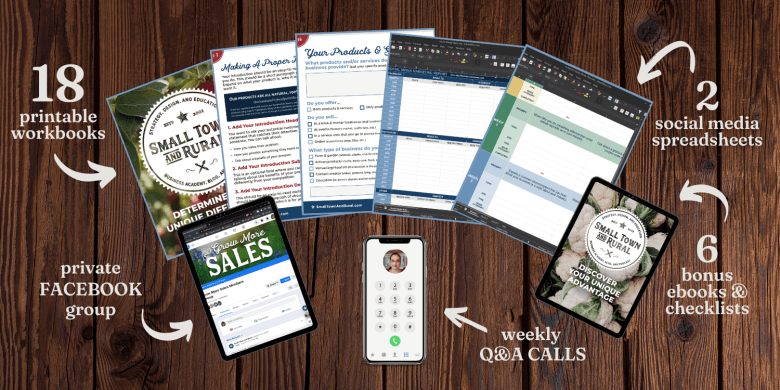 In the three-month course, you will:
Learn who you are selling to and what their problems, wants, and needs are so you can be confident in offering them your solution.
Look at what your competition is offering, so you can get clear about how you are different.
Discover what value, unique differences, features, and benefits matter to your ideal customers, so you feel confident about posting on social media, writing articles and selling your products.
Create a 3-month blogging and social media plan, so you will know exactly what to post every day.
"This course has all the pieces I have been missing in my marketing, like figuring out who my ideal customers are. I love how it breaks everything down into bite-size pieces I can actually do while managing my homestead and working my full time job.

I've taken other courses before, and this explains everything in a way that makes sense. Making the sales page and 3-month content plan was SO EASY after going through the other workbooks."

~Gretchen Hayes, Gretchen's Happy Homestead
After finishing our Grow More Sales course, you'll know how to consistently post on social media, send your newsletter, and write blog posts without the stress or overwhelm. All the information is written in plain English, so it's easy to understand and implement.
By removing the guesswork, your anxiety will be replaced with confidence and your business will thrive. You will be doing the right thing at the right time because you will understand the concepts behind how your marketing works.

Within just three months, this course will equip you with the skills to market your products and services to the people that are ready, willing, and able to buy! 
Join us for just $49 per month to create a more sustainable homestead.